News Archive
Or take a look at the historical news archive here
20 December 2016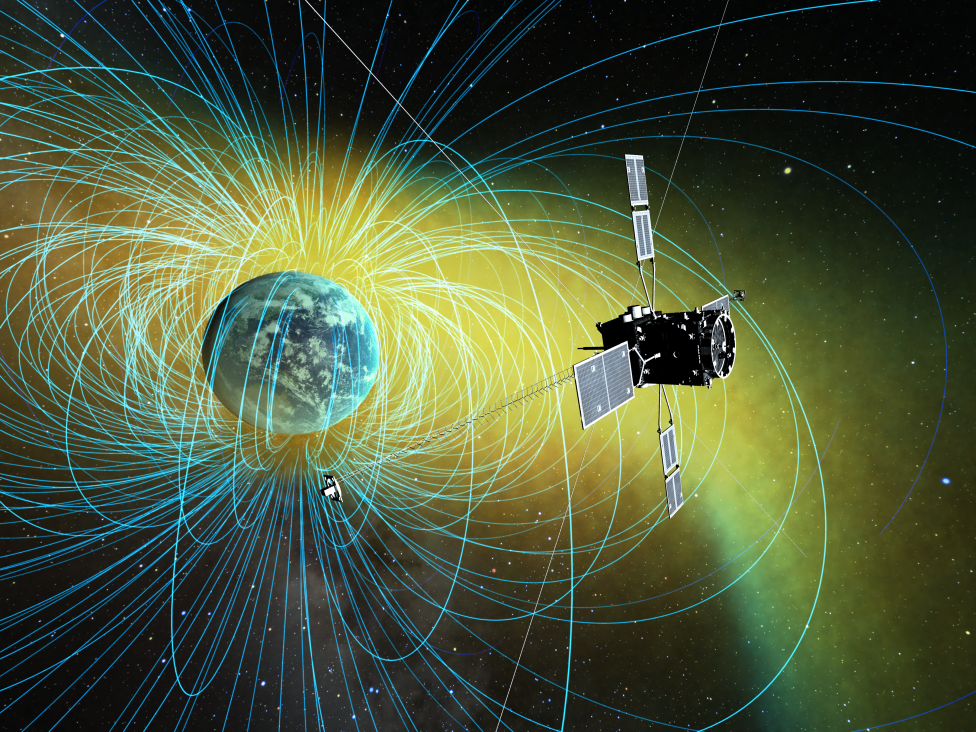 The Japanese Aerospace Exploration Agency (JAXA) successfully launched the ERG satellite into orbit on an Epsilon Launch Vehicle. From the JAXA website: "ERG aims at elucidating how highly charged electrons have been born while they generate and vanish repeatedly along with space storms caused by the disturbance of solar wind caused by space storms, and how space storms are developed." Congratulations JAXA!
17 November 2016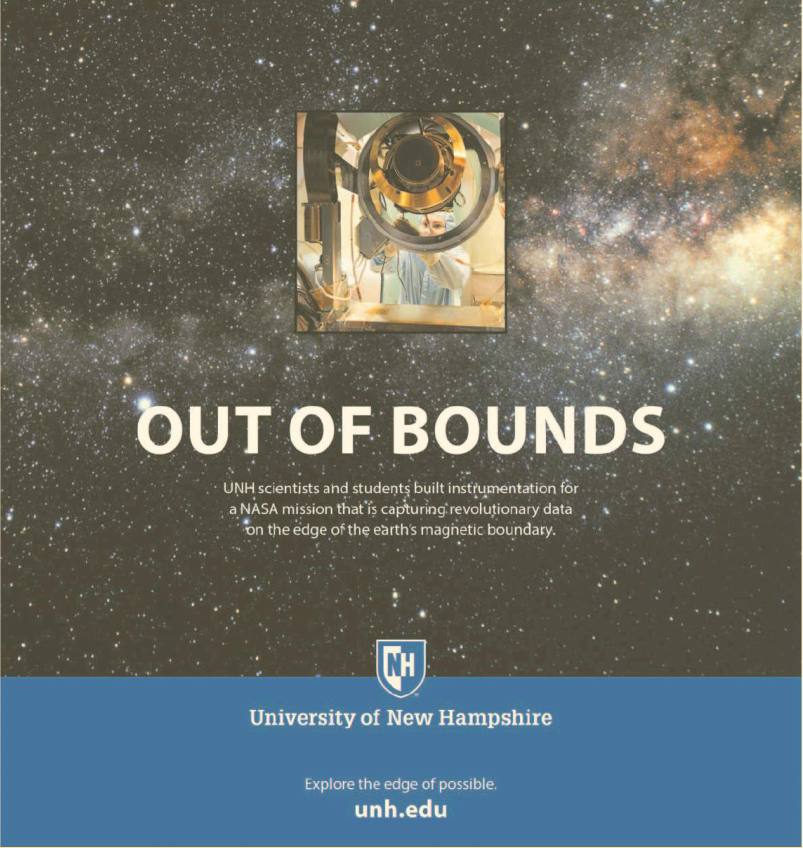 UNH made its presence felt in a recent special issue of USA today. Click here to check out issue. Flip to the back page to see the UNH ad.
1 November 2016
MIRL undergraduate student Tyler Chapman has been selected for funding by the UNH International Research Opportunities Program (IROP) program to spend the summer of 2017 in Norway working with a regular MIRL collaborator, Dr. Jøran Moen. Tyler will be work on developing and integrating a UNH instrument on a student sounding rocket at the Andøya Space Center.Congratulations Tyler!!!
28 October 2016
Space Weather from a Southern Point of View: A recently completed instrument array in Antarctica provides a more complete understanding of the near-Earth space environment. This instrument system uses search-coil magnetometers that are built right here in MIRL at UNH. A MIRL graduate student, Bruce Fritz, spent one recent Antarctic summer helping to install one of the systems. You can read about his experiences in his blog, A Space Science Guy's Blog.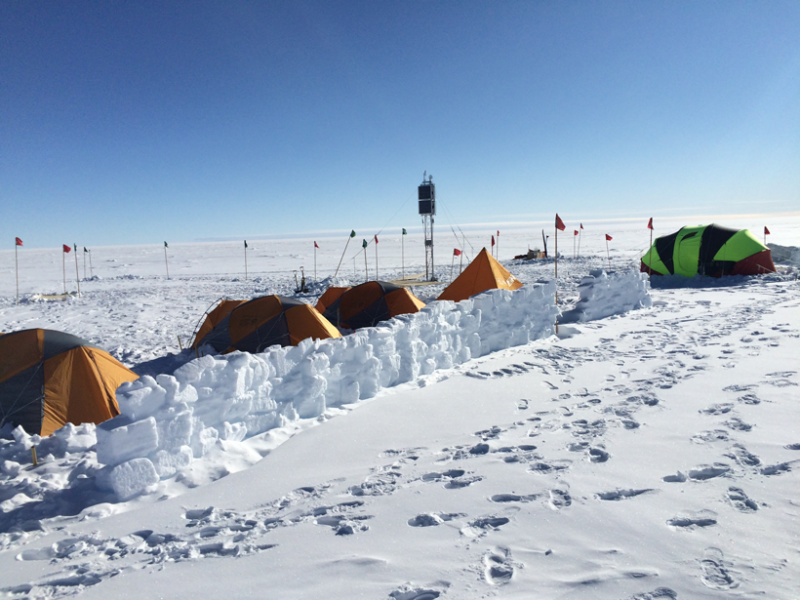 Photo: A temporary snow wall shields tents from the wind at the PG5 camp, roughly 800 kilometers from the South Pole Station on the windswept East Antarctic Plateau. PG5 is one of the most remote sites in the autonomous adaptive low-power instrument platform (AAL-PIP) array. In the background, the main instrument pit and solar panel tower are visible. Credit: Zhonghua Xu
18 October 2016
Balloon Launches Introduce Students to Space Science: High school students launch their own high-altitude payloads and learn from their successes and failures through a science research training program led by the University of New Hampshire.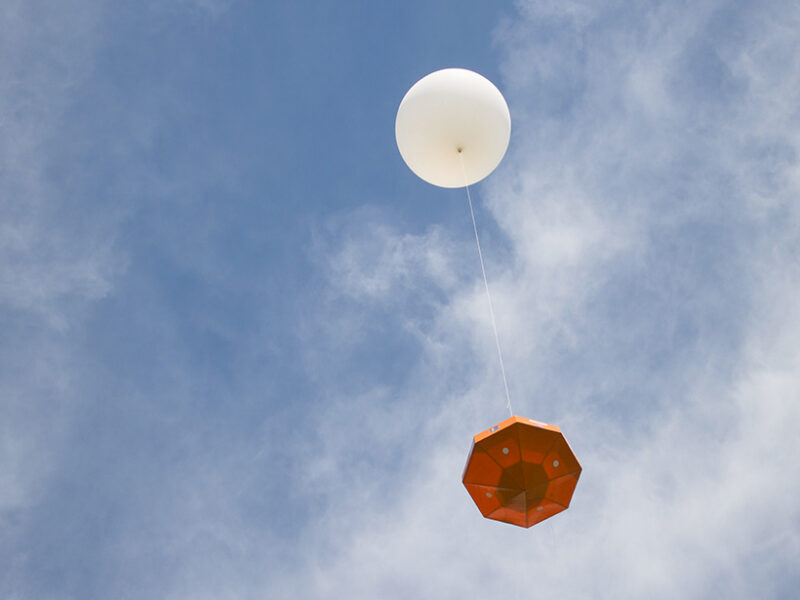 Photo: A high-altitude balloon launch from July 2014 with a payload, designed by students, below the ascending balloon. The students were part of the University of New Hampshire's Project SMART (Science and Math Advancement through Research Training). (Photo credit: UNH)
24 September 2016
MIRL is part of a new sounding rocket campaign coming up in February, 2017 called ISINGLASS, led by Dr. Kristina Lynch and her group at Dartmouth College. MIRL is providing its ERPA instruments to measure electron temperature.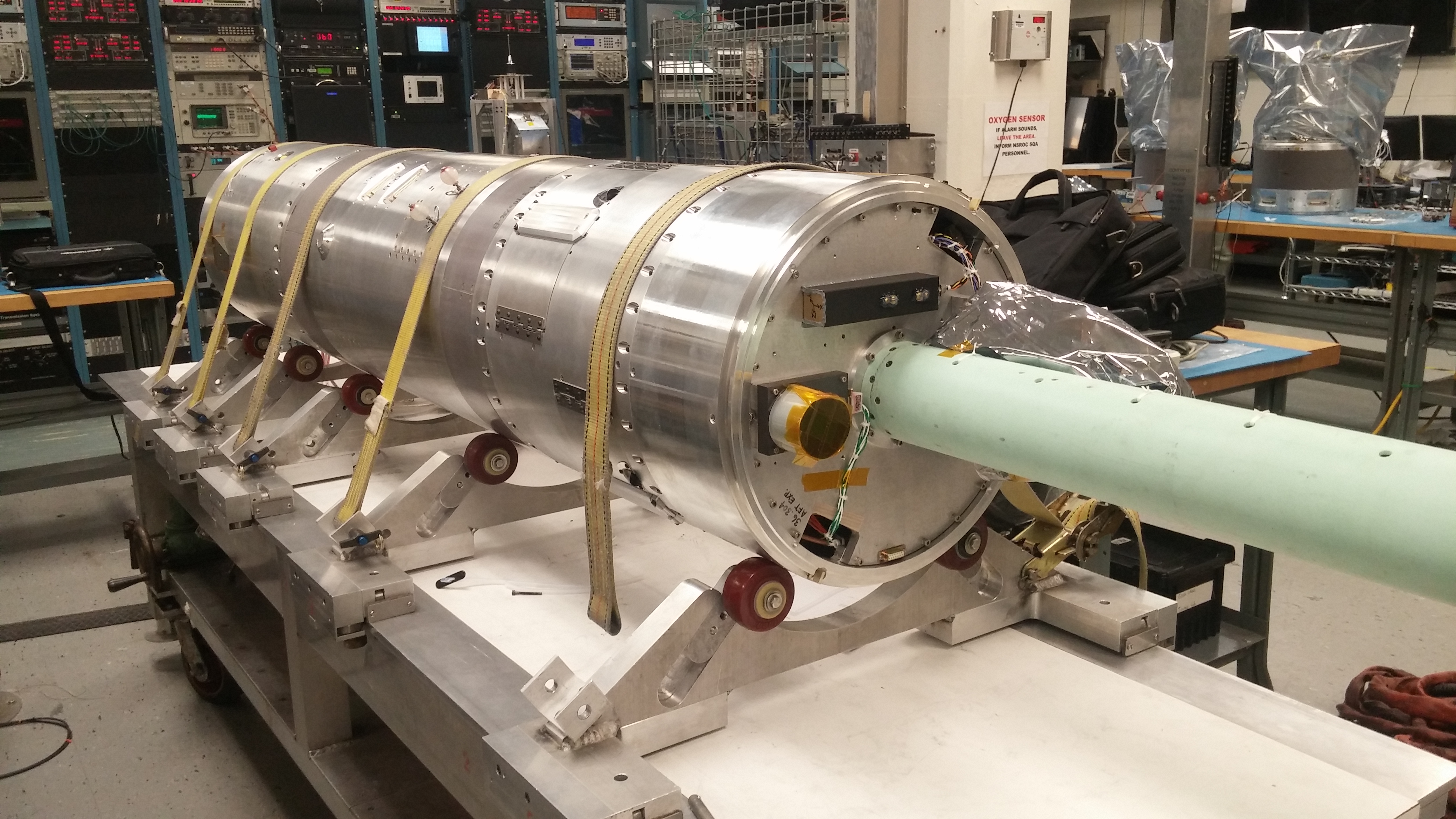 UNH graduate students David Kenward, Kristoff Paulson (photo credit), and Bruce Fritz have been supporting integration at the NASA integration facility at Wallops Island, VA. One of the ERPAs is pictured atop one of two separate payloads that will launch from Poker Flat, AK in just a few months!
31 August 2016
The UNH ULF network of sensors has recently grown. Marc Lessard and David Kenward travelled to Gakona, AK to install an induction coil magnetometer system. UNH scientists use these systems to monitor actiivty in the ionosphere and magnetosphere, often thousands of miles above the surface of the Earth.
UNH graduate student David Kenward is seen here putting the new magnetometer coils in place. Eventually the coils will be buried under the rocks and dirt to protect from the elements.
If you are ever curious about when and where you can spot the International Space Station, NASA an app for that!
8 July 2016
Women with technical degrees in science or engineering have great success finding jobs in the current market.
13 May 2016
NASA's MMS mission issued a major news release this week about the initial findings from the first six months of operation. From the release:
"A new paper printed on May 12, 2016, in Science provides the first observations from inside a magnetic reconnection event. The research shows that magnetic reconnection is dominated by the physics of electrons - thus providing crucial information about what powers this fundamental process in nature."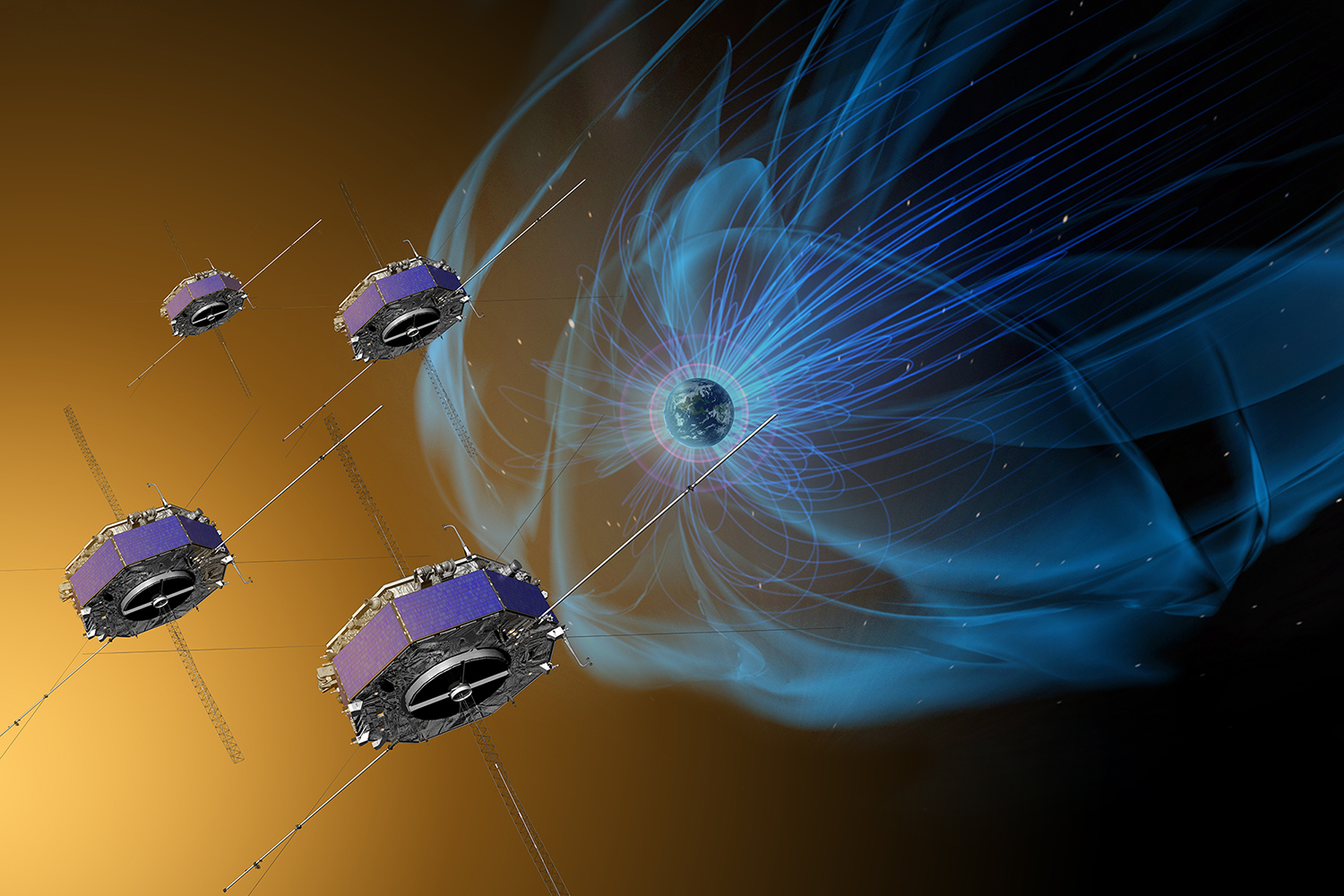 UNH and SwRI are key contributors to the mission and have much to be excited about with this news. In related news, three MIRL alum have been part of the MMS data team. Allison Jaynes, currently at LASP in Colorado, Ian Cohen, currently at the Applied Physics Laboratory, and Matthew Argall, at UNH, were all listed as co-authors on a paper by Dr. Jim Burch just published in Science and one of the flagship publications for MMS. Congratulations Matt, Ian and Allison!!!
11 May 2016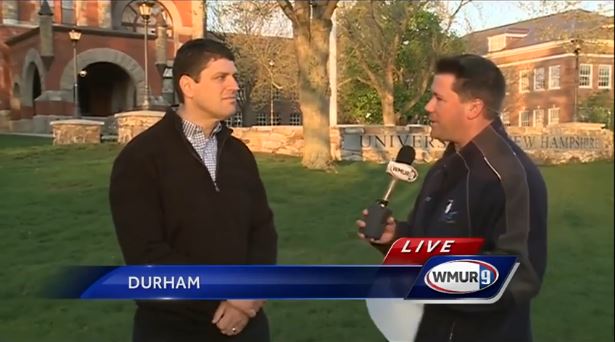 WMUR recently visited UNH for their "Weather Wednesday" segment to learn about the space research being done here on campus. Meteorologist Kevin Skarupa of WMUR interviews Dr. Nathan Schwadron about the Voyager mission, Dr. Andrew Jordan about the Lunar Reconnaissance Orbiter, and Dr. Roy Torbert about MMS.
November 27, 2015 -- RENU 2 is on the rail and ready for launch. Winds the first day at the launch site prohibited an actual launch but the team remains optimistic that a launch will come soon. The window goes until mid-December but we hope to launch much sooner!


November 24, 2015 -- RENU 2 is in the news! NASA's webpage posted an article today talking about RENU and CAPER, the other mission on the rail.


November 12, 2015 -- RENU 2 has arrived at the launch site in Andoya! Integration finished without any major issues and the team passed through the Mission Readiness Review (MRR) a few days later. The payload was taken back apart, put into crates and boxes, and shipped over to Norway. Now the team must begin reassembling the entire rocket again to prepare for flight.

Feel free to check out NASA's webpage about the mission as well.


September 27, 2015 -- Integration for RENU 2 is moving along nicely. All instruments have been successfully mounted on the payload and the initial checks look good. The big test comes this week with vibration testing.



The payload has been assembled and is waiting for vibe testing this week.

September 3, 2015 -- Integration for RENU 2 has begun!!! The instruments arrived at Wallops this week and are currently being integrated with the payload.



The payload is ready and waiting for RENU 2 instrumentation to be added!

July 31, 2015 -- Ever wondered what kinds of things we can learn from sounding rocket launches? Reuters recently published an excellent video about a recent launch by our colleagues at the University of Oslo that could help with GPS navigation. Watch the video for yourself!
June 4, 2015 -- Lightning is a common but poorly understood phenomena that everyone has at least some experience with. Recently, a Florida woman had an up-close and personal encounter when it struck her car and caused her airbags to deploy. When ABC News interviewed her about her experience, they contacted EOS researcher and UNH physicist Joe Dwyer to explain what happened. Read the article for yourself here!


June 1, 2015 -- Recent MIRL graduate Chrystal Moser had a busy year working in MIRL on a miniaturized fluxgate magnetometer that was written about in Spheres. The instrument that Chrystal designed and built will launch on a CubeSat mission in the fall of 2015.



Chrystal takes a break from work at the lab bench with the fluxgate magnetometer in front of her.



May 28, 2015 -- Recent MIRL graduate John Heavisides spent the summer of 2014 in Oslo, Norway analyzing data from the 2012 MICA rocket launch with the Plasma and Space Physics Group at the University of Oslo. The University of New Hampshire published an article on-line written by John to recount his trip. Click here to read all about it!



John (with coffee) taking a quick break to smile for the camera at his workspace at the University of Oslo.



October 23, 2014 -- Get ready for some auroral activity! The largest sunspot recorded during the current solar cycle is about to face towards Earth. This brings an increase in all kinds of sun-Earth interactions, including more aurorae! Check out Tamitha Skov's video below for more information!


October 2, 2014 -- Popular astronomer and blogger Phil Plait - better known by his moniker Bad Astronomer - wrote an excellent piece about the MICA sounding rocket mission. Onboard this rocket were sensors designed and build by the team here at MIRL, many of whom were present at the launch. Read about the mission and why it was done on the Bad Astronomy blog here!


June 3, 2014 -- UNH research has found itself in an unlikely spot. James Gardner's research on the Mariana Trench has been licensed by Warner Bros. for use in their rendition of "Godzilla", which will be out this summer. To read more about the research that is being put in the movie, as well as James Gardner's reactions, refer to this link.


April 24, 2014 -- As the turnout for the Undergraduate Research Conference might suggest, the University of New Hampshire has a long tradition of supporting research in all fields. We think that all of our researchers excel at what they do, and judging by this recent UNH Today slideshow, so do scholarship committees! From Fullbright Scholarships to the Barry M. Goldwater Scholarship, UNH students take their research as far as possible, and others are taking notice. Excellent work to all involved!


April 24, 2014 -- The University of New Hampshire's 15th Undergraduate Research Conference (URC) is underway! This event boasts one of the largest undergraduate conferences in the country, with over 1,300 students presenting their work. Yesterday's event, the Interdisciplinary Science and Engineering Symposium (ISE), featured two MIRL undergraduates: Chrystal Moser with her poster Design and Fabrication of a Miniature Fluxgate Magnetometer for Space Flight, and John Heavisides with his poster Extremely-Low Frequency Whistler-Like Events Observed at South Pole Station, which also won an honorable mention for best poster in the Physics / Mathematics category. Congratulations to all!


April 16, 2014 -- The latest issue of Spheres, the official newsletter of the UNH Institute for the Study of Earth, Oceans, and Space (EOS) is now online! This issue includes articles about UNH efforts to understand extreme solar storms, standardizing neutron monitoring stations, and more. Check it out!


April 11, 2014 -- For the first time in UNH history, three undergraduates have been awarded the Barry M. Goldwater scholarship, including UNH Physic's own Herbie Smith! These three students join 14 prior UNH award recipients for this prestigious STEM scholarship, which is aimed at helping students who intend to pursue a research career. More information may be found here. Congratulations to all the winners!


November 8, 2013 -- MIRL undergraduate John Heavisides has officially recieved the International Research Opportunity Program (IROP) grant from UNH's Hamel Center. With this grant, John will spend the summer of 2014 at the University of Oslo working to upgrade MIRL suborbital sensors, as well as analyze data from the February 2012 MICA rocket mission at Poker Flat, Alaska. John is the third MIRL researcher to recive the IROP award, which is designed to give undergraduates an internation research experience in between their junior and senior year.


October 30, 2013 -- On the 30th of March, 1983, the sounding rocket Echo-6 launched from the Poker Flat Rocket Range in Alaska. Carrying various experiments to study the auroral environment, the rocket successfully completed its mission and returned valuable data. A video about the mission was prepared for a Congressional presentation, which may be found below. Credit for this video goes to Perry Malcolm.



October 23, 2013 -- MIRL Ph.D student Ian Cohen has written a letter to NASA administrator Charles F. Bolden, Jr. voicing disapproval over proposed cuts to heliophysics funding. The letter, signed by 46 graduate and 3 undergraduate student researchers from 22 universities, will be published in AGU's journal Space Weather. The letter points out the increasing need for reliable space-weather information, as well as the importance of heliophysics as noted by the NRC Decadal Survey. The letter may be found here.


October 15, 2013 -- The CASSIOPE mission is now underway, with all booms deployed! The e-POP suite is getting ready to begin collecting data; already, the Fast Auroral Imager (FAI) has been pointed towards Earth to test its abilities. Although no aurora have been imaged yet, the device has had resounding success in observing cities below! Check out the image below to see for yourself:

September 29, 2013 -- e-POP is away! After a successful launch of the CASSIOPE mission on SpaceX's new Falcon 1.1 rocket, the University of Calgary's Enhanced Polar Outflow Probe (e-POP) will now start collecting data on the upper atmosphere in polar regions. All of us at MIRL have been excited to have been involved with this mission, having calibrated the auroral imagers for the FAL instrument. Readers interested in learning more about the launch may find more information here.


July 25, 2013 -- The students from project SMART have finished up their work in the lab and are now getting ready for their presentation. Their work has helped us move forward in finding a better means to analyzing the large amounts of ELF data that we have here in the lab. To those who are interested, UNH today has posted an article about the Balloon launch that all of the SMART students worked on. This includes a video recorded from the balloon as it fell from 100,000 feet above the Earth's surface. The article can be found here.


June 22, 2013 -- Ian Cohen was named a NASA Student Ambassador for 2013 following a two-month internship at the Goddard Space Flight Center last summer working as part of the Magnetospheric Multiscale mission team. NASA inducted 86 "top-performing" interns into the 2013 NASA Student Ambassadors Virtual Community, a vital component of the agency's ongoing effort to engage undergraduate and graduate students in science, engineering, mathematics and technology (STEM) research and interactive opportunities.


June 22, 2013 -- A new paper was published in JGR: "Auroral Current and Electrodynamics Structure (ACES) observations of ionospheric feedback in the Alfven resonator and model responses" written by I.J. Cohen, M.R. Lessard, S.R. Kaeppler, S.R. Bounds, C.A. Kletzing, A.V. Streltsov, J.W. LaBelle, M.P. Dombrowski, S.L. Jones, R.F. Pfaff, D.E. Rowland, B.J. Anderson, H. Korth, J.W. Gjerloev.


May 8, 2013 -- MIRL undergraduate John Heavisides has been awarded an International Research Opportunities Program (IROP) grant from the UNH Hamel Center for Undergraduate Research. With this grant, John will be spending the summer of 2014 in Oslo, Norway at the University of Oslo. There, he will work with physicist Joran Moen in an effort to better understand data from the 2012 MICA rocket mission.

John is the third undergraduate from MIRL to recieve the IROP grant. Prior recipients were Drummond Biles in 2012, and Chris Black in 2006. The IROP program seeks to allow qualified undergraduates international research opportunities during the summer between their junior and senior year. It serves to further the Hamel Center's mission to allow all undergraduates to have the opportunity to participate in research at UNH. More information on the IROP grant may be found on their website.


April 29, 2013 -- Two new papers have been accepted for publication in the Journal of Geophysical Research:

"Persistent, widespread pulsating aurora: a case study" written by

S. Jones

,

M. Lessard

, K. Rychert, E. Spanswick, E. Donovan, and

A. Jaynes

.

"Multi-instrument Observations from Svalbard of a Traveling Convection Vortex, Electromagnetic Ion Cyclotron Wave Burst, and Proton Precipitation Associated with a Bow Shock Instability" written by M. J. Engebretson, T. K. Yeoman, K. Oksavik, F. Sigernes, F. Sigernes, J. I. Moen, M. G. Johnsen, V. A. Pilipenko1, J. L. Posch1,

M. Lessard

, B. Lavraud, M. D. Hartinger, L. B. N. Clausen, T. Raita1, and C. Stolle.


April 16, 2013 -- MIRL's Erik Lindgren will be attending the 2013 UNH Undergraduate Research Conference (URC) and presenting at the Interdisciplinary Science and Engineering (ISE) Symposium on April 24. The ISE alone draws over 400 students prsenting more than 180 presentations. The URC enters its 14th year and will host over 1000 undergraduates presenting their research from all fields, and is one of the largest presentation of its kind in the country. More information on the URC may be found on the URC website. Congratulations Erik!


April 1, 2013 -- Fifty years ago today: In the JGR issue of April 1, 1963, UNH Professor Larry Cahill reported the disccovery of the magnetopause, using a UNH-built fluxgate magnetometer on the Explorer 12 satellite. UNH continues this tradition of research through rocketry to this day, with the recent MICA and upcoming RENU2 missions!


March 8, 2013 -- MIRL's talents go beyond science: undergraduate research assistant Erik Lindgren is currently competing at the NCAA nordic ski championships! All of us here at the lab wish him the very best in all of his competitions. Readers interested in this story may find more information on UNH's athletic site.


February 10, 2013 -- We have just been notified that the RENU2 sounding rocket mission is being funded by NASA. Launch is scheduled for winter of 2015-16. Lots of work to do!


January 29, 2013 -- Good news for aurora enthusiasts everywhere! The University Center in Svalbard (UNIS) has released a mobile app that can provide a one-hour aurora forecast. The app, under the name "Auroral Forecast", may be downloaded for all smartphone platforms, including iPhone, Android, and Windows. More information may be found in the press release from the UNIS site.


January 24, 2013 -- Working to recieve a Ph.D is no easy job. Allison Jaynes knows this only too well, having worked through rocket failures and cold climates to pull together her thesis. Read about her triumphs and tribulations in a new article from the UNH Graduate School, which may be found here.


January 17, 2013 -- Allison Jaynes has successfully defended her thesis entitled "Pulsating Aurora: Source Region & Morphology". With her Ph.D complete, Doctor Jaynes has accepted a position at the University of Colorado. We wish her the best as she continues on in the field of physics!


December 6, 2012 -- Under NASA's Experimental Program to Stimulate Competitive Research (EPSCoR), MIRL and several other UNH and regional researchers have recieved a grant to develop miniature components for CubeSat missions. MIRL researcher Marc Lessard has been named lead scientist in a push to design small magnetometers for use on these small satelites. More information on this story can be found here and here.


December 3, 2012 -- Marc Lessard, Allison Jaynes, Carol Weaver, and Ian Cohen are currently out of the lab as they attend the American Geophysical Union fall meeting in San Fransisco.


August 10, 2012 -- A paper entitled "Spectral enhancements associated with Pi1B events observed at high latitude", written by Matthew Young, Marc Lessard, Mark Engebretson, Jesse Woodroffe, and Kjellmar Oksavik has been accepted for publication in the Journal of Geophysical Research.


August 10, 2012 -- The latest EOS newsletter has just been released, and may be found here.


July 25, 2012 -- High school students working in the summer Project SMART program at UNH have successfully launched an atmospheric balloon to a height of 20 miles. Carrying a geiger counter and a camera, the balloon collected useful data for the students throughout its ascent. Read Discovery Magazine blogger Phil Plait's write-up about the balloon launch here. Find out more about the Project SMART program here. Hats off to the SMART students!


May 21, 2012 -- Our very own Drummond Biles is currently in Svalbard! Follow his adventures as he checks our sensors on his blog, which may be found here.


May 21, 2012 -- A paper entitled "Electron Temperature in the Cusp as Measured with the SCIFER-2 Sounding Rocket" , written by Eric Lund, Marc Lessard , Fred Sigernes, Dag Lorentzen, P.M. Kintner , Kristina Lynch, D.H. Huang, Beichen Zhang, and Dr. Huigen Yang has been accepted for publication in the Journal of Geophysical Research.


April 2, 2012 -- A paper entitled "Auroral precipitation/ion upwelling as a driver of neutral density enhancement in the cusp", written by F. brent Sadler, Marc Lessard, Eric Lund, Antonius Otto, and Hermann Lühr has been accepted for publication in the Journal of Atmosphereic and Solar-Terrestrial Physics.


April 26, 2012 -- Marc Lessard was recently interviewed for a National Geographic article about Project Aether, a low-cost balloon project aimed at auroral research. Read the full article here.


March 16, 2012 -- A paper entitled "Auroral Precipitation / Ion Upwelling as a Driver of Neutral Density Enhancement in the Cusp", written by Brent Sadler, Marc Lessard, Eric Lund, Antonious Otto, and Hermann Lühr, has been accepted for publication in the Journal of Atmospheric and Solar-Terrestrial Physics.


March 16, 2012 -- A paper entitled "A Review of Pulsating Aurora", written by Marc Lessard, had been accepted for inclusion in the AGU monograph

Relationship Between Auroral Phenomenology and Magnetospheric Processes

.


February 27, 2012 -- Science isn't the only thing we do: Undergraduate research assistant Erik Lindgren has qualified for the NCAA championships in Nordic Skiing. He will travel to Bozeman, MT next week to make UNH proud. Congratulations, Erik!


February 27, 2012 -- MICA has been getting so much attention, both locally and nationally, that we added a Publicity section to the project page.


February 19, 2012 -- The MICA rocket was launched successfully!! Stay tuned for news of the results.


February 18, 2012 -- Allison Jaynes has accepted a request to give an invited talk at the upcoming Inner Magnetosphere Coupling conference, held in March at UCLA.


February 6, 2012 -- The paper "Pi1B propagation in the high-latitude ionosphere" by Matthew Young, Marc Lessard and Mark Engebretson has been accepted for publication in the Journal of Geophysical Research.


February 6, 2012 -- MICA is nearly upon us! MICA, which stands for Magnetosphere-Ionosphere Coupling in the Alfvén Resonator, is a rocket mission designed to study the energetic coupling that occurs between the Magnetosphere and the Ionosphere via a special kind of magnetic waves - Alfvén waves - that can be trapped in resonant cavities in the Ionosphere. Ian has been in Poker Flat, Alaska since last week, and Marc and Allison are getting ready to join him soon. Stay tuned for a website section dedicated to information and mission updates. In the meantime, check out Ian's blog in the Travel Blogs section.


November 10, 2011 -- Drummond Biles has been awarded a grant through the UNH International Research Opportunities Program (IROP) for his project entitled "Development of an Optical Calibration Facility at an Auroral Research Station", which he will undertake in Svalbard during the summer of 2012. IROP grants are competitive awards that allow undergraduate students to pursue research in an international setting.


October 12, 2011 -- Marc Lessard chimes in on the harsh conditions involved in possible attempts to rescue Raytheon Polar Services scientist Renee-Nicole Douceur from the South Pole.


October 5, 2011 -- Marc Lessard gave an invited talk to the U.S. Arctic Commision, "Observing Earth's Space Environment from Actic Regions."


September 26, 2011 -- MIRL in the news: Marc Lessard, a real-life rocket scientist, spoke to Foster's Daily Democrat, and to WMUR about recent concerns that debris from the NASA Upper Atmosphere Research Satellite would pose a threat to people as it fell back to Earth.


Check out this video synopsis of the RENU mission, featuring Marc Lessard, put together by the folks at Andøya Rocket Range. (Link to YouTube)


June 10, 2011 -- Ian Cohen has been awarded a NASA Graduate Student Researchers Program (GSRP) grant. Congratulations Ian!


May 19, 2011 -- Matthew Young was inducted into Sigma Pi Sigma, the National Physics Honor Society. He was also recently awarded the Glenice Dearborn Scholarship for academic year 2011-2012.


April 27, 2011 -- Kevin Rychert's poster presentation of his research into large-scale aspects of pulsating aurora won the award for best poster in the Physics/Mathematics category during the annual UNH Undergraduate Research Conference!


February 27-March 4, 2011 - Marc Lessard (invited), Brent Sadler, Carol Weaver and Allison Jaynes gave presentations at the AGU Auroral Chapman conference in Fairbanks, Alaska. Of course, they also got to see plenty of actual aurora!


December 12, 2010 - The RENU rocket was successfully launched in the waning moments of the launch window. If you missed the daily updates or want to relive the excitement you can still still read about the mission here or in the Travel Blogs section.


December 13-17, 2010 - Carol Weaver, Kevin Rychert, Brent Sadler and Matt Young attended the 2010 American Geophysical Union Fall Meeting in San Francisco, CA. Carol presented posters persistent excitation of EMIC waves and the correlation between Pi1B pulsations and poleward boundary intensifications. Kevin presented a poster about pulsating aurora. Brent gave an oral presentation on the topic of auroral precipitation related to neutral upwelling. Matt presented a poster based on research into narrow-band ELF events.


November 10, 2010 - We are all deeply saddened by the passing of Dr. Paul Kintner, who, in addition to being an authority in his field and mentor to many, was a Co-Investigator on the RENU mission. Please see the RENU project page for a link to a memorial article published by Cornell University.


November 2010 - Marc Lessard, Paul Riley and Ph.D student Allison Jaynes travelled to Svalbard, Norway to launch the RENU rocket.


Carol Weaver spent the month of July wandering around the island of Svalbard. She visited Longyearbyen, Ny Ålesund and Isfjord Radio in order to perform maintenance or to replace induction coil systems. She appreciated the help provided by UNIS and Norwegian Polar Institute to complete her work. You can read about her adventures by going to the Travel Blogs section.


Jim Gealy defended his M.S.E.E thesis entitled "Feasibility Study of a Free Space Optical Telemetry System For Formation Flying Sounding Rocket Sub-Payloads" on August 5th 2010.


The following posters were presented at the

GEM 2010 Summer Workshop

in Snowmass CO (June 20-25): "A Statistical Study of Pulsating Aurora using THEMIS All-sky Ground Imagers" by Kevin Rychert, Sarah Jones, Marc Lessard, Eric Donovan (University of Calgary, AB, Canada) and Emma Spanswick (University of Calgary, AB, Canada). "RENU: Rocket Experiment for Neutral Upwelling" by Allison Jaynes. "Statistical Study of Pc 1-2 Wave Propagation Characteristics in the High-Latitude Ionospheric Waveguide" by Hyomin Kim, Marc Lessard, Matthew Young and Mark Engebretson (Augsburg College, MN). "Observed Characteristics of Ducted ULF Pi1B Pulsations" by Matthew Young, Marc Lessard, Mark Engebretson (Augsburg College, MN), Jesse Woodroffe (University of Minnesota, MN) and Kjellmar Oksavik (University Centre in Svalbard, Norway). "Correlation between Pi1B Pulsations and PBIs" by Carol Weaver. "Pi1B pulsations observed on the ground and in space by GOES and THEMIS" by Marc Lessard.


At the

CEDAR 2010 Workshop

, Brent Sadler presented a poster entitled "Numerical Estimates of Polar Cusp Upwelling Using Satellite Conjunction Data," for which he won the second place award.


Allison Jaynes was awarded a NASA/Goddard Space Flight Center Graduate Student Researchers Program fellowship on May 10th 2010 for her proposal entitled "Observations of Neutral Upwelling in the Cusp Region: High-Altitude Atomic Oxygen Signatures Related to Visible Aurora."


May 2009 - Matthew Young has been awarded the Richard N. St. Onge Memorial Scholarship for the 2010-2011 academic year.


As of August 2010, Marc Lessard will be a tenure-track associate professor.


Matthew Young gave a short presentation on Pc1-2 wave propagation in the ionospheric waveguide for the Undergraduate Research Symposium on April 23rd 2010.


Sarah Jones defended her PhD Thesis entitled "Space- and Ground-Based Observations of Pulsating Aurora" on April 7th 2010.


Hyomin Kim defended his PhD Thesis entitled "Development of Ground-Based Search-Coil Magnetometer Systems in the Polar Regions and Studies of ULF Pc1-2 Wave Propagation in the Ionospheric Waveguide" on April 6th 2010.


UNH search-coil magnetometers installed at Longyearbyen were used in a study by Pirli et al. of a 2008 earthquake near the Norweigian territory of Svalbard, published in Seismological Research Letters (vol. 81 num. 1).


The following people presented research at the AGU 2009 Fall Meeting in San Francisco:

Marc Lessard

presented a poster entitled "Pi1B pulsations observed on the ground and in space by GOES and THEMIS satellites," Ph.D student

Allison Jaynes

gave a talk entitled "UV Emissions Observed By the SCIFER2 Sounding Rocket," Ph.D student

Hyomin Kim

gave a talk entitled "Propagation Characteristics of Pc1-2 Waves at High Latitude Ionospheric Waveguide," Ph.D student

Sarah Jones

presented a poster entitled "Sub-keV Electron Signatures Within Pulsating Aurora," Ph.D student

Brent Sadler

presented a poster entitled "Ground and Satellite Conjunction Study of Small-scale Neutral Upwelling in the Cusp," undergraduate student

Kevin Rychert

presented a poster entitled "A Statistical Study of Pulsating Aurora using THEMIS All-sky Ground Imagers," and undergraduate student

Matt Young

presented a poster entitled "Statistical Study of Ducted Propagation Characteristics of ULF Pi1B Pulsations."


"The Shining", a story about our rocket launch from Poker Flat Research Range, Alaska is released from Smithsonian Air & Space Magazine (11/1/2009)


Marc Lessard is a co-convener for the special session "Advances in Cusp and Polar Cap Dynamics" at AGU 2009 Fall Meeting, San Francisco, CA.


UNH Magazine covers a story about our Autonomous Real-time Remote Observatory (ARRO) project in Antarctica (7/9/2009).


Sarah Jones, a Ph.D. student, spent ten weeks (from Jun to Aug 2009) participating in a research at NASA GSFC under NASA fellowship grant.


Sarah Jones, a Ph.D. student, gave a talk, "A statistical study of pulsating aurora using THEMIS ground camera images" at GEM Workshop, Snowmass, CO., Jun 21-26 2009.


Allison Jaynes, a Ph.D. student, presented a poster:
UV Emissions Observed by the SCIFER2 Sounding Rocket
by Allison Jaynes, Marc Lessard, Paul Kintner, Kristina Lynch, and Fred Sigernes
GEM Workshop, Snowmass, CO., Jun 21-26 2009.


Hyomin Kim, a Ph.D. student presented a poster:
Ground Observations of Quasi-Periodic ULF Pulsations during Pulsating Aurora
by Hyomin Kim , Marc Lessard, Sarah Jones, Mark Engebretson, Michael Nicolls, and Russell Cosgrove
GEM Workshop, Snowmass, CO., Jun 21-26 2009.


Brent Sadler, a Ph.D. student, gave a presentation, "Numerical Estimate of Polar Cusp Upwelling Using Satellite Conjunction Data" at LWS TR&T Focused Science Team Meeting on Thermosphere-Ionosphere Short-Term Variability, 5/28-29 2009, High Altitude Observatory (HAO), Boulder, CO.


Kevin Rychert, an undergrad student presented a poster:
A Statistical Study of Pulsating Aurora using THEMIS Ground Camera Images
by Kevin Rychert, Sarah Jones, Marc Lessard, Eric Donovan, Emma Spanswick
AGU Spring Meeting, Toronto, Canada, May 24-27 2009.


Matthew Young, an undergrad student presented a poster:
Statistical Study of ULF Pc1-2 Wave Propagation Characteristics in the High Latitude Ionospheric Waveguide
by Matthew Young, Marc Lessard, Hyomin Kim and Matthew Argall
AGU Spring Meeting, Toronto, Canada, May 24-27 2009.
Sarah Jones gave an invited talk as part of the Dartmouth College Plasma Seminar Series on April 28 2009. The tile of her talk was "Space-based Observations of Pulsating Aurora"


Marc Lessard presented an invited talk at the Dayside Cusp and Polar Cap Ionosphere Symposium at the Norwegian Academy of Sciences in Oslo, Norway on April 23, 2009. The title of the talk was "Satellite and Rocket Observations of Neutral Upwelling in the Cusp"


Matthew Young has received a Summer Undergraduate Research Fellowship (SURF) award for 2009 to continue work on a statistical study regarding propagation of EMIC waves within the ionosphere.


Press release from National Science Foundation: Autonomous Antarctic Observatories Gather Space Weather Data (4/9/2009)


Allison Jaynes, a Ph.D. student at MIRL, has been awarded the 2009-2010 NH Space Grant Consortium Graduate Fellowship.


Press release from the University of New Hampshire: Unmanned Antarctic observatories gather space weather data (4/8/2009)


CASCADE2 Rocket launched from Poker Flat Research Range, AK. (3/20/2009)


ACES Rocket launched from Poker Flat Research Range, AK. (1/29/2009)