The Magnetosphere-Ionosphere Research Laboratory (MIRL) at the Institute for the Study of Earth, Oceans, and Space (EOS), University of New Hampshire contributes to a variety of research projects in space physics. The lab primarily focuses on the development of instrumentation for ground-based, rocket-based, and satellite observations of space physics phenomena and analysis of the resulting observations.
Current research methods include:
Ground-based observations from ultra low frequency (ULF) and extremely low frequency (ELF) search-coil magnetometers for the study of magnetosphere-ionosphere coupling and its relationship with auroral phenomena.
Rocket-borne observations from a low light imager, UV Photomultiplier Tube, particle detectors for in-situ auroral measurements, and magnetic field instruments.
Data analysis from a variety of satellite missions including the recently launched e-POP satellite.
---
Updated News
24 April 2017
Drummond Biles, former MIRL undergraduate researcher and current UNH Mechanical Engineering PhD student, has been named a finalist in this year's UNH 3 Minute Thesis Competition. On 26 April, 2017 Drummond will compete agains the 11 other finalists in the finals. Good luck Drummond!
21 April 2017
Maria Panacopoulos, Undergraduate researcher at MIRL, recieved first place in Electrical & Computer Engineering - Hardware Design at the Undergraduate Research Conference Interdisciplinary Science & Engineering Symposium for a ground based camera system.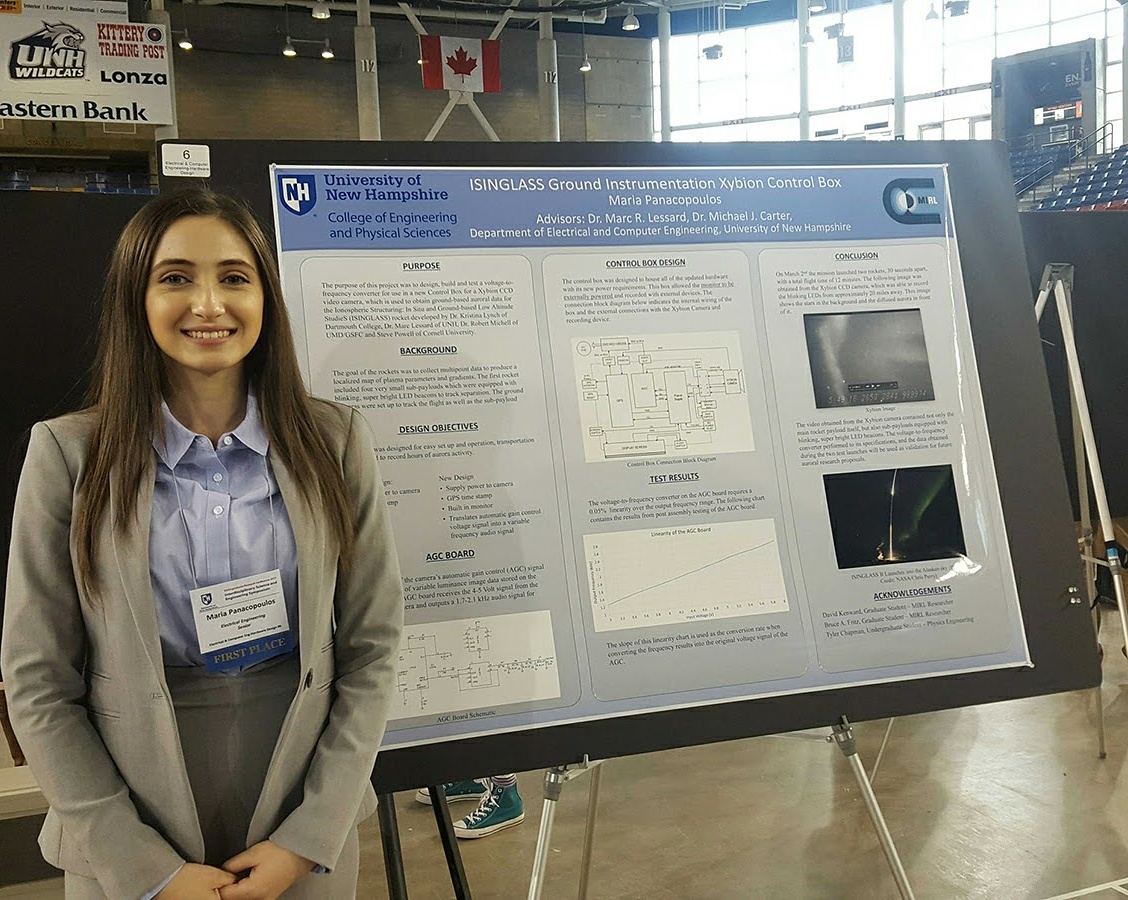 Congratulations Maria!!!
3 April 2017
Undergraduate research student Tyler Chapman has received an honorable mention for the 2017 Goldwater Scholarship. This is a highly competitive nationwide competition for one of the most prestigious undergraduate scholarships in the natural sciences, mathematics, and engineering in America. Congratulations to Tyler for the recognition!
4/21/2017 Update: See the UNH Physics Department website for an article about Tyler's achievement. Again, congratulations Tyler!!!
2 March 2017
ISINGLASS has launched!!! From the NASA Press Release:
"Three NASA rockets carrying instruments into active auroras over Alaska to aid scientists studying the northern lights and the interactions of the solar wind with Earth's upper atmosphere and ionosphere were launched within a nearly two-hour period March 2, 2017."

[LEFT] A NASA Black Brant IX sounding rocket soars skyward into an aurora over Alaska following a 5:14 a.m. EST, Feb. 22, launch from the Poker Flat Research Range. The rocket carried an Ionospheric Structuring: In Situ and Groundbased Low Altitude StudieS (ISINGLASS-A) instrumented payload examining the structure of an aurora. (Credits: NASA/Terry Zaperach) [RIGHT] ISINGLASS B Launches into the Alaskan sky (Photo Credit: NASA/Chris Perry)
For news about the first ISINGLASS rocket launch on 22 Feb, 2017, see this news article.
20 December 2016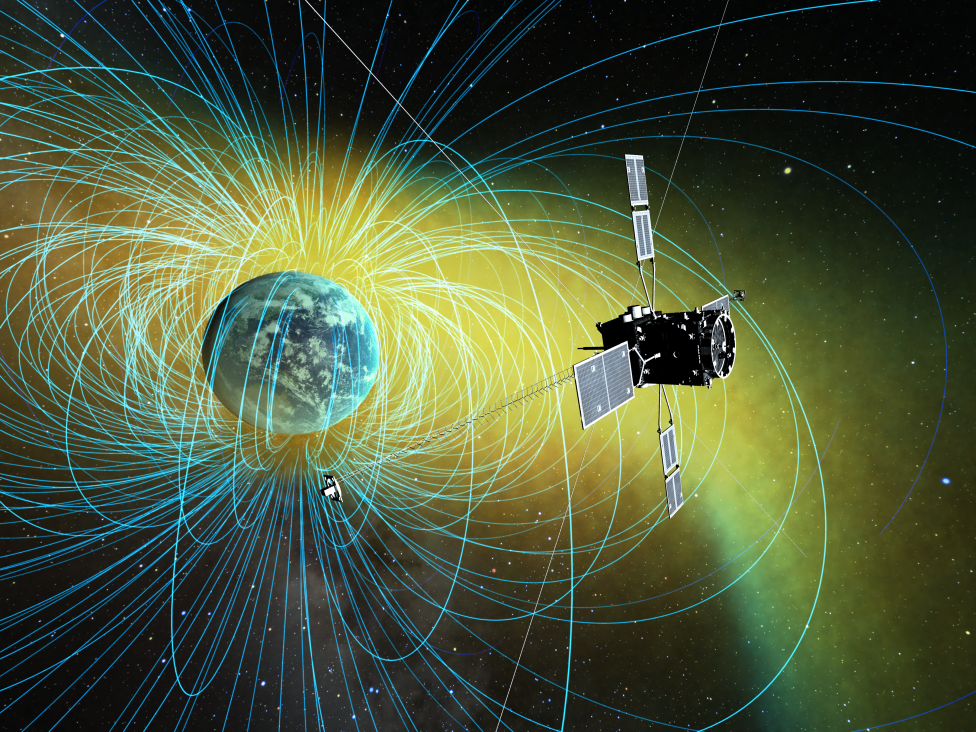 The Japanese Aerospace Exploration Agency (JAXA) successfully launched the ERG satellite into orbit on an Epsilon Launch Vehicle. From the JAXA website: "ERG aims at elucidating how highly charged electrons have been born while they generate and vanish repeatedly along with space storms caused by the disturbance of solar wind caused by space storms, and how space storms are developed." Congratulations JAXA!
17 November 2016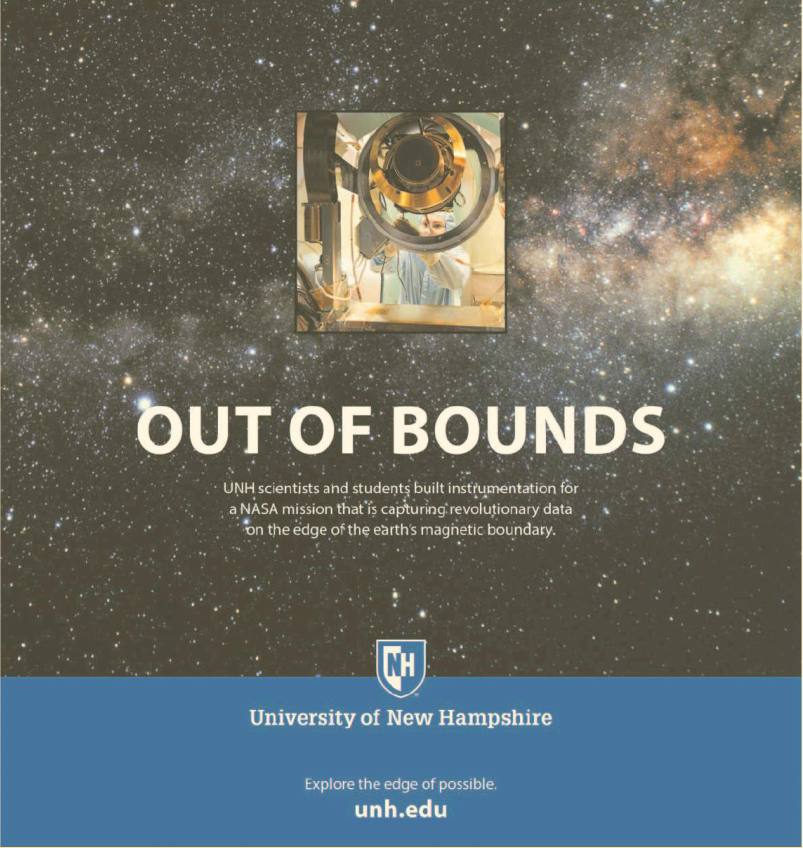 UNH made its presence felt in a recent special issue of USA today. Click here to check out issue. Flip to the back page to see the UNH ad.
1 November 2016
MIRL undergraduate student Tyler Chapman has been selected for funding by the UNH International Research Opportunities Program (IROP) program to spend the summer of 2017 in Norway working with a regular MIRL collaborator, Dr. Jøran Moen. Tyler will be work on developing and integrating a UNH instrument on a student sounding rocket at the Andøya Space Center.
Congratulations Tyler!!!
28 October 2016
Space Weather from a Southern Point of View: A recently completed instrument array in Antarctica provides a more complete understanding of the near-Earth space environment. This instrument system uses search-coil magnetometers that are built right here in MIRL at UNH. A MIRL graduate student, Bruce Fritz, spent one recent Antarctic summer helping to install one of the systems. You can read about his experiences in his blog, A Space Science Guy's Blog.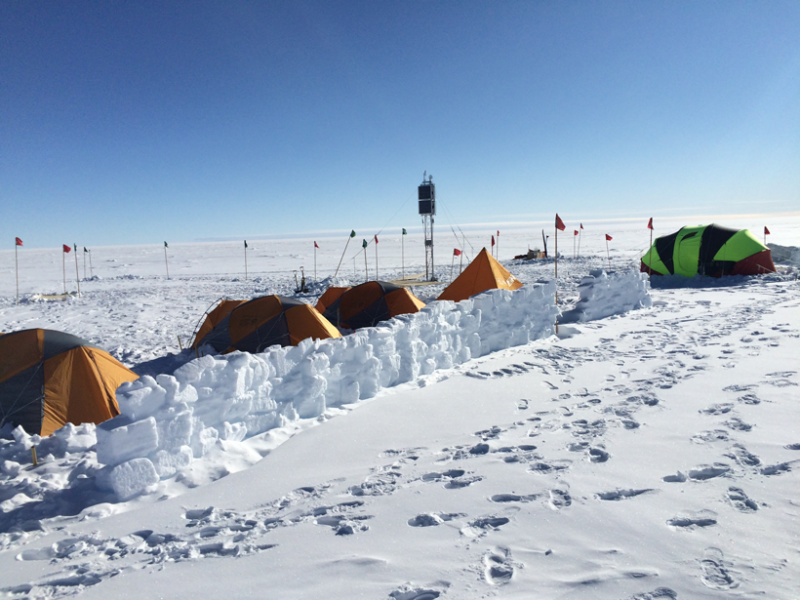 Photo: A temporary snow wall shields tents from the wind at the PG5 camp, roughly 800 kilometers from the South Pole Station on the windswept East Antarctic Plateau. PG5 is one of the most remote sites in the autonomous adaptive low-power instrument platform (AAL-PIP) array. In the background, the main instrument pit and solar panel tower are visible. Credit: Zhonghua Xu
18 October 2016
Balloon Launches Introduce Students to Space Science: High school students launch their own high-altitude payloads and learn from their successes and failures through a science research training program led by the University of New Hampshire.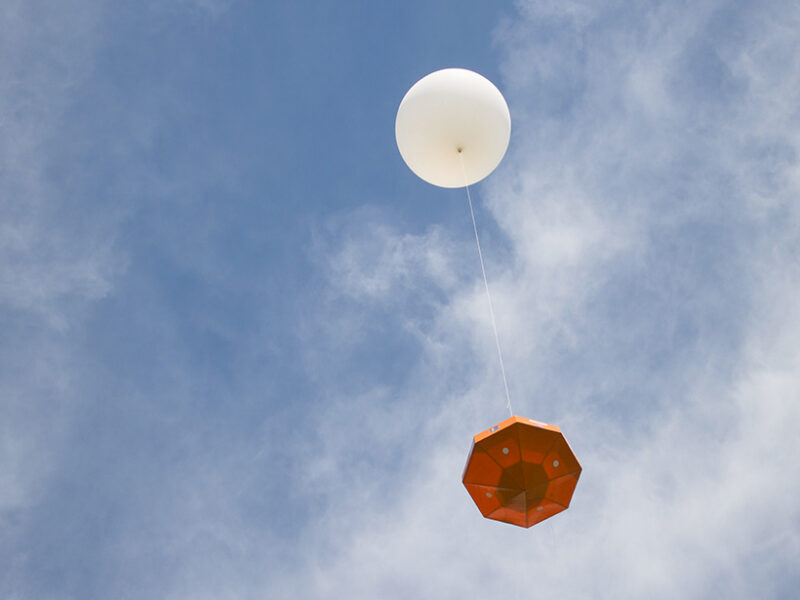 Photo: A high-altitude balloon launch from July 2014 with a payload, designed by students, below the ascending balloon. The students were part of the University of New Hampshire's Project SMART (Science and Math Advancement through Research Training). (Photo credit: UNH)
24 September 2016
MIRL is part of a new sounding rocket campaign coming up in February, 2017 called ISINGLASS, led by Dr. Kristina Lynch and her group at Dartmouth College. MIRL is providing its ERPA instruments to measure electron temperature.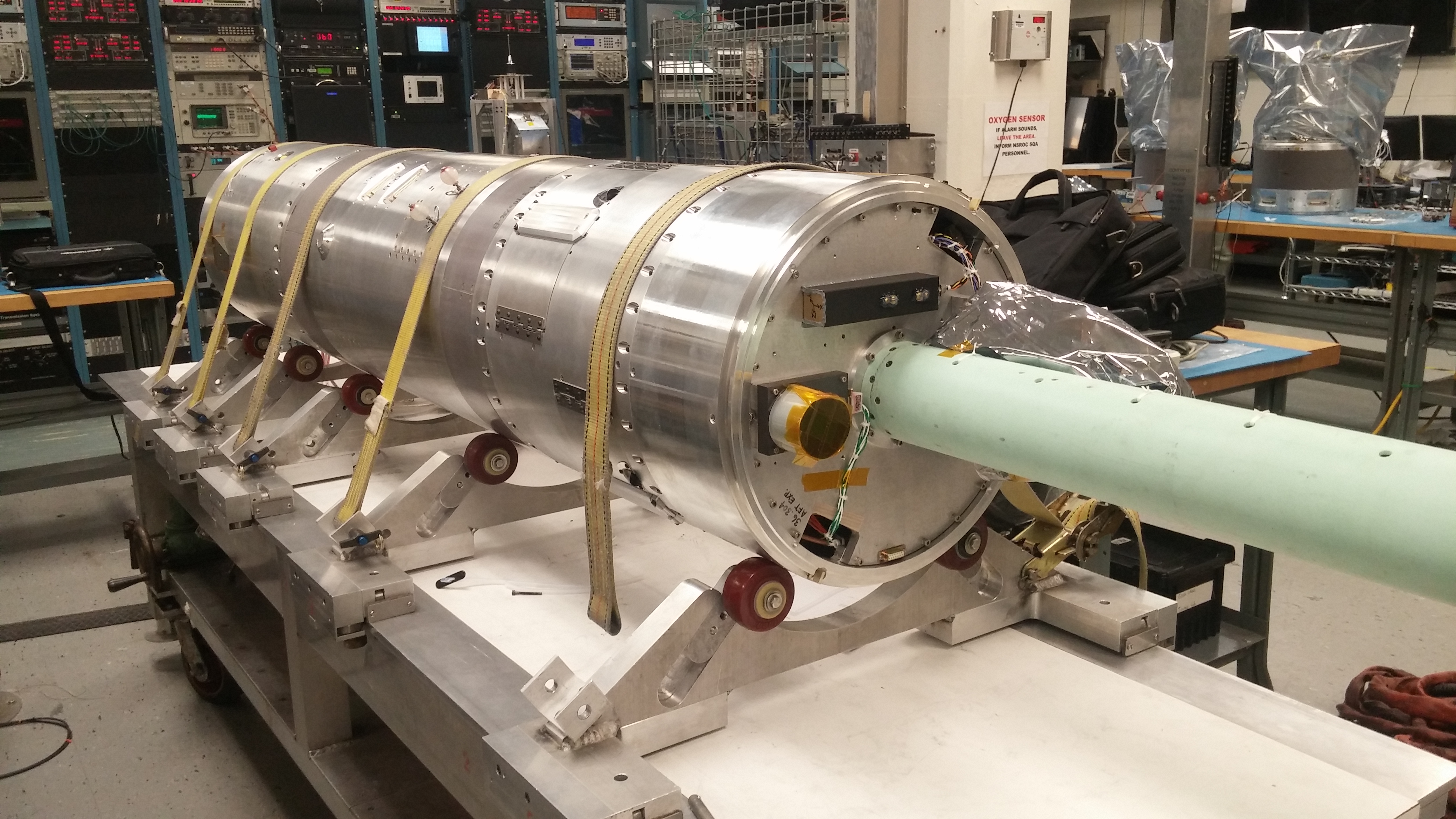 UNH graduate students David Kenward, Kristoff Paulson (photo credit), and Bruce Fritz have been supporting integration at the NASA integration facility at Wallops Island, VA. One of the ERPAs is pictured atop one of two separate payloads that will launch from Poker Flat, AK in just a few months!
31 August 2016
The UNH ULF network of sensors has recently grown. Marc Lessard and David Kenward travelled to Gakona, AK to install an induction coil magnetometer system. UNH scientists use these systems to monitor actiivty in the ionosphere and magnetosphere, often thousands of miles above the surface of the Earth.
UNH graduate student David Kenward is seen here putting the new magnetometer coils in place. Eventually the coils will be buried under the rocks and dirt to protect from the elements.
If you are ever curious about when and where you can spot the International Space Station, NASA an app for that!
8 July 2016
Women with technical degrees in science or engineering have great success finding jobs in the current market.
13 May 2016
NASA's MMS mission issued a major news release this week about the initial findings from the first six months of operation. From the release:
"A new paper printed on May 12, 2016, in Science provides the first observations from inside a magnetic reconnection event. The research shows that magnetic reconnection is dominated by the physics of electrons - thus providing crucial information about what powers this fundamental process in nature."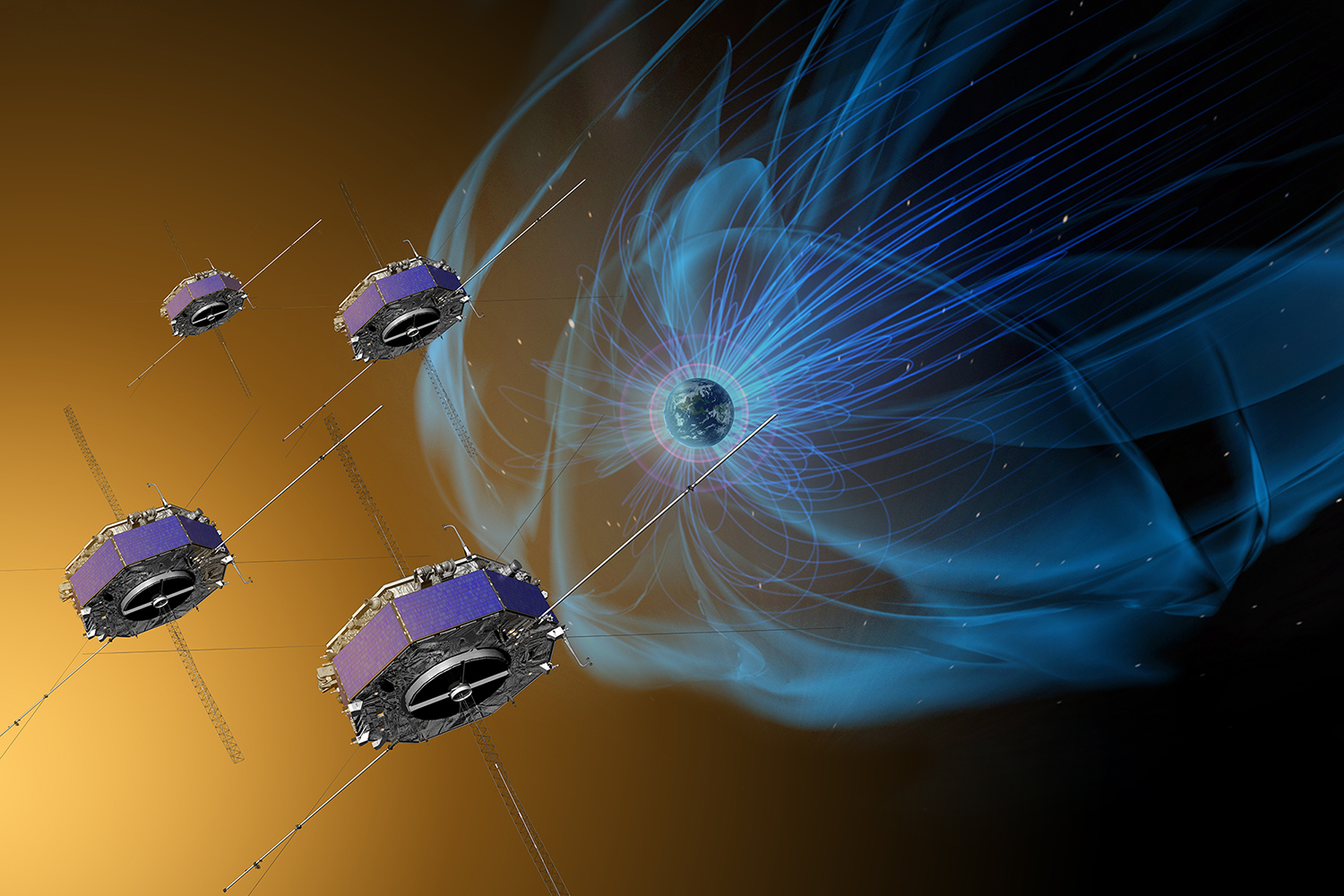 UNH and SwRI are key contributors to the mission and have much to be excited about with this news. In related news, three MIRL alum have been part of the MMS data team. Allison Jaynes, currently at LASP in Colorado, Ian Cohen, currently at the Applied Physics Laboratory, and Matthew Argall, at UNH, were all listed as co-authors on a paper by Dr. Jim Burch just published in Science and one of the flagship publications for MMS. Congratulations Matt, Ian and Allison!!!
11 May 2016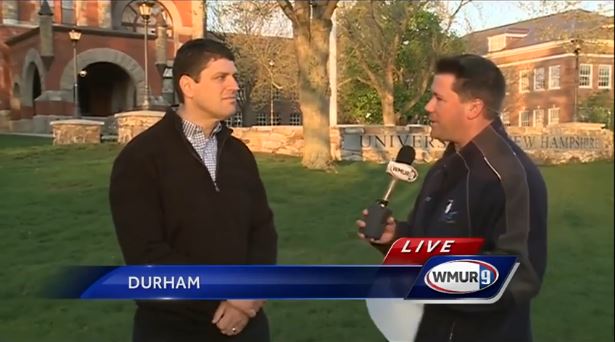 WMUR recently visited UNH for their "Weather Wednesday" segment to learn about the space research being done here on campus. Meteorologist Kevin Skarupa of WMUR interviews Dr. Nathan Schwadron about the Voyager mission, Dr. Andrew Jordan about the Lunar Reconnaissance Orbiter, and Dr. Roy Torbert about MMS.