Here are some personal research-related blogs written by former and current group members. This is a great way to get different perspectives on our work, and to follow current missions.
---
A Space Science Guy's Blog - The travel adventures of Bruce Fritz: from the South Pole to Svalbard.



Bruce Fritz, on location at the South Pole in 2015, picking up where Marc left off.

The Sky's the Limit - The blog of an aspiring astronaut: our own Ian Cohen.
The Frozen North - Allison's on-going travel blog, currently comprising MIRL-related trips to Alaska, the Antarctic, and Norway.

Sarah's Blawg

-

This includes Sarah's trip to Alaska for the CASCADES2 launch.

MIRL Adventures - Follow every breath-taking account of Carol's harrowing trips on behalf of the MIRL group.
RENU Rocket - Marc's view from the field during the RENU mission.
Adventures into the Great Beyond - Read along as Drummond dodges polar bears and reindeer in the frigid northern island of Svalbard.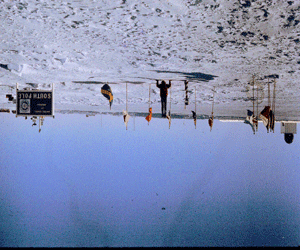 Marc Lessard, on location at the South Pole, either hanging on for dear life or holding up the Earth.