Photos from December 7th 2010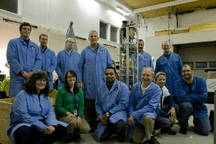 Part of the RENU team at Andenes, working on building up the payload a couple weeks ago (there are many more people, but spread around into different buildings so I don't have photos of everybody). Back row, l-r: Ernie Bowden (Northrop), Erik Lundberg (Cornell), Jim Diehl (Northrop), Jay Scott (Northrop), Wayne Taylor (Northrop), Dave Collins (Dartmouth). Front row, l-r: Valerie Gsell (ATK)), Allison Jaynes (UNH), Tim Wilson (Northrop)), Steve Powell (Cornell), David Olsen (UMD) and Philip Fernandes (Dartmouth).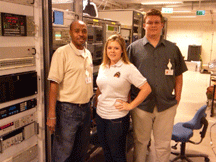 Part of the team is at the Tromsø tracking station, located about a half hour away by plane from Andenes. From l-r: Dave Smith, Katie Ford and Jesse Twiford (all LJT). These folks track the payload and receive the transmitted data. The system at Tromsø is one of two, the other system being the one at Svalsat in Longyearbyen.